LOOK AHEAD TO MORE OPPORTUNITY WITH FUTURES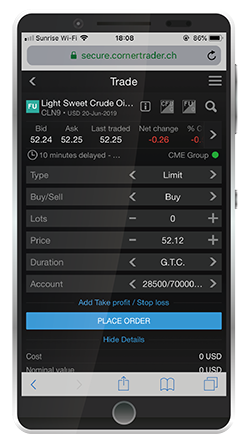 �
Take a broader view of major markets around the world by trading online Futures with Cornèrtrader. Not only you profit from low commission rates, but also from reliable access to real-time trading in oils, metals, currencies, agriculturals, and more.
You're able to trade an enormous range of products, and reach indices around the world – from CME Group to Eurex and Euronext.
Broad Reach
Cornèrtrader enables you to trade more than 250 contracts on live market prices from over 22 Futures exchanges around the world.
Flexibility
Select from a range of trading choices. Use Limits, Stop-Limit, Stops and Trailing Stops. Place them all through the trade module, order module or account summary modules.
Trade Informed
Cornèrtrader gives you direct access to the free Hightower Report, providing comprehensive daily research on the Futures markets.
A selection of our pricing
EUR

GBP

USD

CHF

JPY

FUTURES OVERVIEW
A Future is a contractual agreement to buy or sell a particular commodity or financial instrument at a pre-determined price on a specific date in the future.
Futures contracts can derive from a variety of assets, from traditional commodities such as corn, wheat, and orange juice to different asset classes such as government bonds, interest rates, energies and stock indices.
Low costs and transparent pricing
Because Futures are highly liquid exchange traded financial instruments, they can be traded on tight spreads. You'll find that transaction costs are low, and pricing is transparent. This is due to the level of specificity found in Futures Contracts, and also results from the regulations imposed by the various exchanges.
No physical delivery
Note that Cornèrtrader does not support physical delivery of the underlying security on expiry of a Futures Contract. On or before the expiry of a Futures Contract, Cornèrtrader will cash settle your positions on your behalf.

FUTURES: TRADING ON MARGIN
Actual payment on Futures doesn't happen up front, as Futures contracts are essentially agreements to buy or sell a certain asset at a given date in the future. Traded on "margin," buyers and sellers place collateral on their Futures.
The size of the margin is determined by the Futures exchange and is the same for all traders. Depending on the asset you are trading, a 1%-10% in margin is generally required.
Use your Stock portfolio as margin
Cornèrtrader allows you to use the value of your Stocks as collateral for margin trading. This provides you with extra flexibility when managing your portfolio – making it easier to act as you identify trading opportunities.

EXPLORE CONTRACT OPTIONS
In addition to Futures, you might consider trading the world's most liquid exchange listed options contracts. These are known as Contract Options on the Cornèrtrader platform.
Both Contract Options and Futures are listed on a derivatives exchange and provide you with access for trading the world's most liquid markets, including currencies, indices, commodities and more.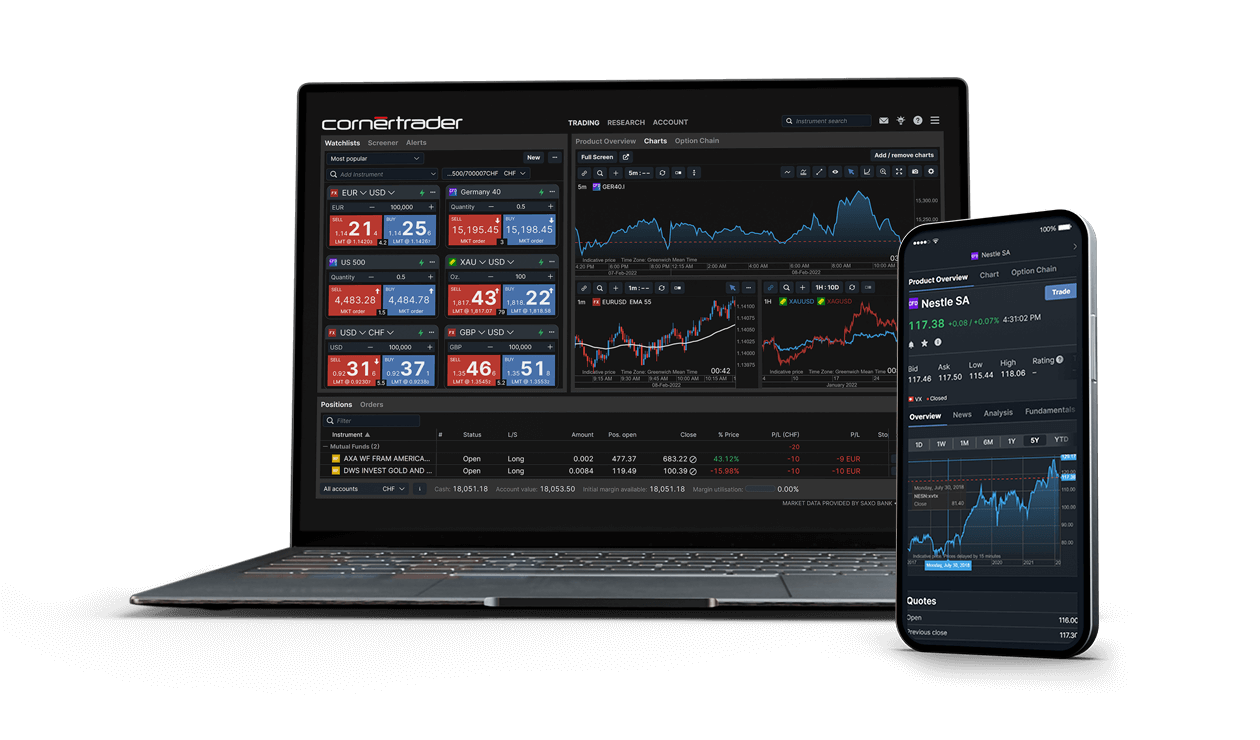 Powerful Platforms

Trade all your desired asset classes from our platforms

Find out more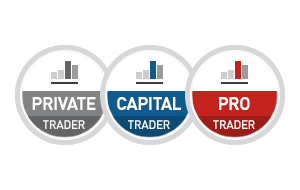 Free trial
Trade with virtual money.
LIVE
Open your account entirely online and free of charge!
Upcoming events
We are offering a lot of seminars and workshops in order to make your trading easy
Call us at:
+41 58 880 80 80

Mon-Fre: 8:00-18:30

Our offices in Lugano will be closed on Thursday 08.12.2022 for the
Immaculate Conception.