Protect against falling markets
Hedge your stock portfolio with put options or CFD indices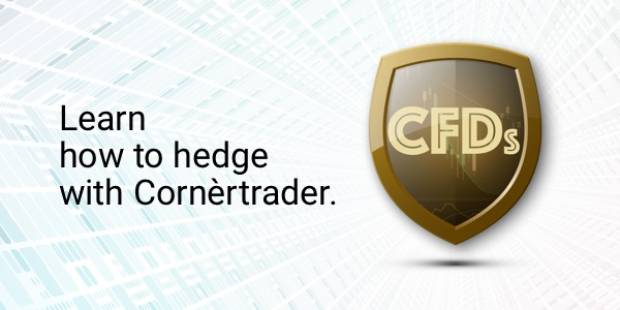 Protecting your assets and investments is just as important as setting your investment objectives. It is therefore a good idea to adopt hedging strategies for your portfolio, especially if it contains investments with a low level of diversification, and to be prepared for any market situation at any time. One way to implement a hedging strategy involves using contracts for difference, or CFDs (known as "hedging with CFDs").
Hedging is a trading technique that allows you to protect either your entire portfolio or an individual position against adverse market movements. You would use it, for instance, to shield your portfolio against a potential loss of value if the stock markets are forecast to fall. Instead of acting on individual investments, a hedging strategy gives you greater security and flexibility in managing your portfolio as a whole.

Why use hedging techniques to cover your risks
You prevent the market from eroding the value of your portfolio. Rather than taking a hedging position for every individual exposure, you only need to carry out one transaction involving a certain asset. This transaction is designed to offset any fall in the value of your portfolio and it can all be done with a single click. In other words, hedging can be defined as opening a new position to maintain your portfolio's value until the market recovers, i.e. until the downturn is over.

Long equity portfolio

Portfolio of equities traded on a certain index or market, totalling an amount equivalent to the value of the assets in Swiss francs.

Short-term downtrend expected

Uncertainties over price trends are sparked by financial market conditions, the macroeconomic environment and/or geopolitical risks. The visual presentation or technical composition of the indicators will help you by pointing towards the start of a market correction.

Trade: open your hedge

Pick the right instrument, set the relevant nominal value to be hedged and take the hedging position to be kept open until market conditions change.

Practical examples
Here is a practical example. Your portfolio is worth USD 100,000 and is made up of shares traded on the Nasdaq (e.g. Amazon, Facebook, Google/Alphabet, Cisco, Intel, Microsoft, Nvidia, eBay, JD.com, Netflix, AMD, Tesla and Apple). You are expecting a correction on the US market and thus need to sell a number of CFDs on Nasdaq indices worth USD 100,000.
Assuming that the Nasdaq CFD index is trading at 7,100, hedging your USD 100,000 portfolio will require you to sell 14 Nasdaq CFDs (100,000/7,100).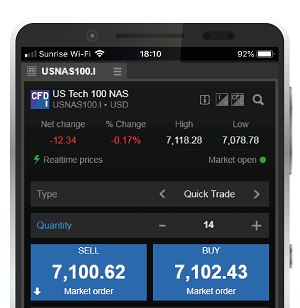 The same calculation applies to all the other stock markets on which you hold a portfolio.
For instance, if you have CHF 75,000 invested in securities traded on the Swiss stock exchange (e.g. Nestlé, Swatch, ABB, Credit Suisse, Lonza Group, Novartis, Roche Holding, Swisscom, Swiss Re, UBS and Zurich Insurance) and you anticipate a corrective fall on the Swiss market, you will have to sell a certain number of CFDs on the SMI index to achieve the equivalent of CHF 75,000.
Assuming that the CFD on the SMI (called "SWISS20.I") is trading at 9,330, you will need to sell eight CFDs on the SMI to hedge a portfolio of CHF 75,000.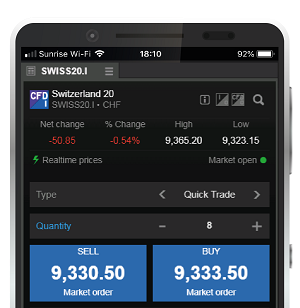 Try out the hedging technique for yourself and protect your portfolio against the vagaries of the stock market.
Disclaimer:
CFDs are leveraged instruments that can result in a loss exceeding the amount of the capital invested. They are highly speculative and thus call for a prudent approach to trading in investments of this kind. The information on this page is not to be construed as investment recommendations and merely contains examples for educational use. This publication is intended for information and/or promotional purposes only and is not to be understood as financial advice or as encouragement to act or invest in accordance with a certain strategy. This publication is not to be construed as a guarantee in trading strategy matters. Its content is not to be interpreted as a full description of all the risks relating to the relevant product or service. We would recommend that you consult your own financial advisor before making any investments or executing any transactions after reading this content.