Activate your money
Invest in Mutual Funds

Advantageous, simple and time efficient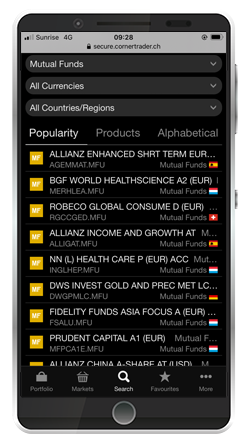 Investing in mutual funds greatly reduces the anxiety of investing in single stocks, giving you broad exposure to a range of investment instruments, whilst letting professional managers take care of the portfolio composition and management.
Attractive Conditions
Low investment entry levels and competitive conditions allow you to benefit from the expertise of professional Fund Managers and maximize your returns, without requiring much of your time and efforts.
Wide choice of top mutual funds
Cornèrtrader gives you access to over 600 mutual funds, giving you the freedom to select the fund that best matches your investment criteria and broadens your asset base.
Available online
Mutual funds with Cornèrtrader can be accessed and traded from anywhere via the Invest platform, for a unique comprehensive investment experience. They can also be enabled on the Cornèrtrader multi-device platform FLEXibility and the desktop version Advance.
*Mutual Funds pricing (%)
Cornèr Funds

Capital

Private

HOW DO THEY WORK?
Mutual funds allow you to gain exposure to an entire market, without accumulating large commissions and manual portfolio rebalancing. Lower investment costs translate into higher investment returns for you as an investor. They don't require big expertise and nor a lot of your time.

Mutual funds invest in hundreds and sometimes thousands of stocks at once; even if one stock is performing poorly, there are many others in the fund that will be there to offset that risk. You don't have to keep track of every stock your mutual fund owns. The fund is managed by experts who take care of that for you. They are useful to diversify your risk among asset classes and sectors.
Trading hours
Mutual funds are available for trading online at any time. Each fund sets a certain cut-off time for receiving orders for subscriptions and redemptions to be processed for the next execution date. Generally, this is in the European afternoon of each trading day. Subscription and redemption orders are binding and will be executed at the next valuation date. Prices for mutual funds are generally published on a daily basis at the end of every trading day.
Forward-pricing
In contrast to equities or ETF's, mutual funds are usually traded once per day depending on the trading frequency set by the fund manager.
At the time of the valuation point of the fund, the Fund Manager will calculate the value per unit , which is based on the value of the underlying investments. This will constitute the price at which units are bought or sold and reflects the value of underlying investments at the time of calculation. When a trade is entered, the order is executed at the next valuation point. The investor will receive a trade confirmation with the details of the price at which the trade was executed.
Fund trading terms
The mutual funds offered by Cornèrtrader are available for investing on a daily basis. However, mutual funds are intended to be used as investment instruments, and are not suitable for day trading or profiting from short term volatility in the stock market. Mutual fund units are traded directly with the Fund Manager, who creates or redeems units of the fund on the basis of daily buy and sell orders within the fund. The number of units traded in a fund can therefore vary and are based on the valuation of the underlying investments within the fund. Investors may receive fractional units of a fund.
Prices
The displayed price is always the last available Net Asset Value (NAV) of the fund. As funds are forward-priced, the price that the order will be executed at is only known once the trade has been executed. Since mutual funds need to be managed actively by the Fund Manager, a management fee or total expense ratio is usually charged by the fund. The amount that is charged will vary from one fund to another.
Minimum trade size
Minimum subscription amounts are defined by the Fund Manager and will be published in the fund details. Managers usually differentiate between initial subscription minimums and subsequent subscription minimums: if you have already invested in the fund and, wish to increase your existing investment, a lower minimum amount will apply.
Orders
Orders for subscriptions or redemptions in mutual funds are binding and cannot be cancelled once they have been placed by the investor.
Order failure
Order failure is very unlikely with mutual funds due to the subscription and redemption process, as an unlimited supply of units to be traded is available. In the unlikely case that an order is not filled, Cornèrtrader cannot be held responsible and the investor should contact the fund directly.
Order types
Subscription (Buy) – usually denominated in cash terms in the fund currency (most funds do not allow subscriptions by number of units, only cash amounts).
Redemption (Sell) – denominated either in units or cash amount.
Orders will be executed at the next available trading date, until the point at which the order will be displayed as pending until execution. Because orders in mutual funds are binding, the subscription amount will not be available for trading until the settlement of the pending order.
Stocks based mutual funds as collateral for margin trading
Trading stocks based mutual funds online with Cornèrtrader makes you automatically eligible to use a percentage of your investment collateral for margin trading of Forex, Futures and CFDs – all from your single multi-asset account.
FAQ
How much are the management fees?
How long does the mutual funds settlement take?
How long do mutual funds take to sell?
When can a mutual fund be redeemed?
How mutual funds fees work?
How many mutual funds and Etfs are there?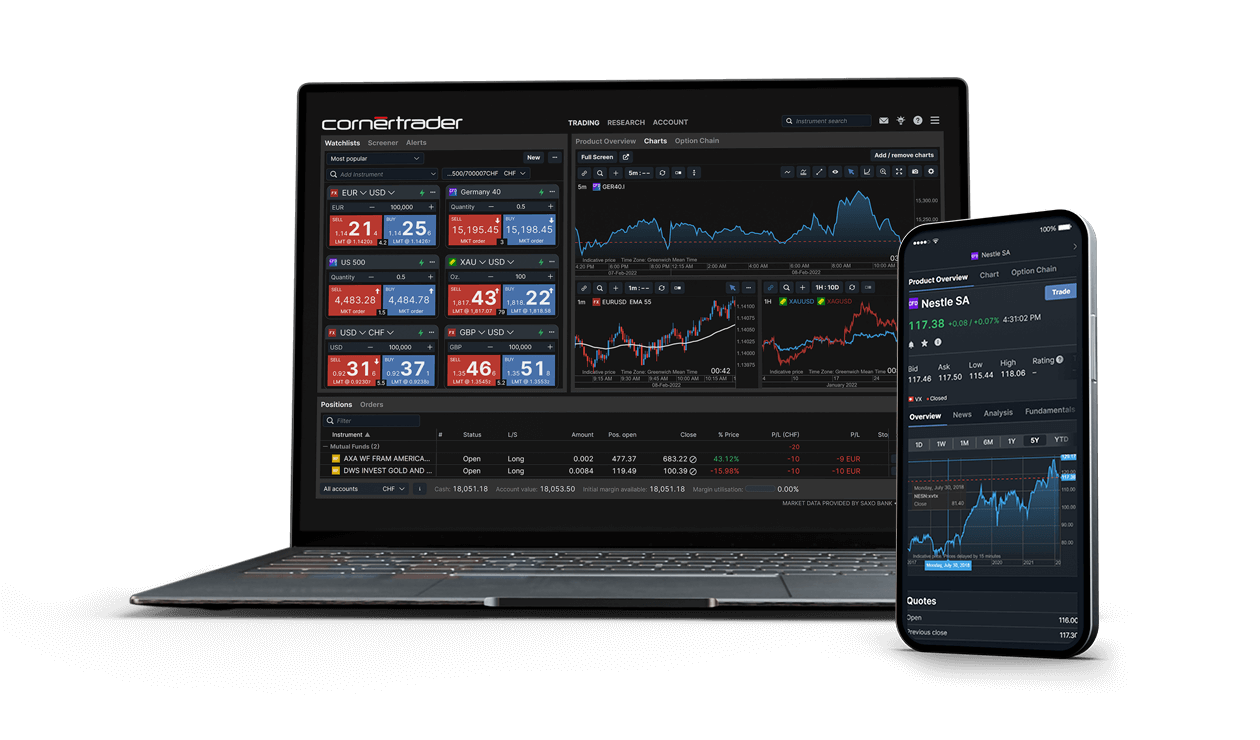 Powerful Platforms

Trade all your desired asset classes from our platforms

Find out more