Sign up
Demo

Account

Free trial: Trade with simulated 100,000 CHF.




Live

Account

LIVE: Open a real account to trade your own money.



BUILD A MULTI-ASSET PORTFOLIO ON A STRONG FOUNDATION
The ability to build a diversified, multi-asset portfolio is a must for today's trader. At Cornèrtrader, we provide you with a powerful, feature-rich platform for supporting many trading strategies. With sophisticated tools, extensive information and analysis resources, and seamless access to the world's markets, we give you more trading power.

One Platform,
A World of Assets
More than 160 Forex crosses, dozens of FX Options, thousands of CFDs, ETFs, and Stocks from 22 global exchanges, along with Contract Options and Futures. The numbers speak to a world of opportunity.

YOU-FIRST
SERVICE
But, it's what is behind the counter that counts most — a customers-first ethic on which we have built the Cornèrtrader brand. Our deep commitment to personal services means that you are both fully in control and fully supported.

TOP SOLIDITY
Security, solidity and stability – this is what you get from Cornèrtrader, a division of Cornèr Bank, which has consistently been amongst the leading banks in Switzerland in terms of capital soundness for many years.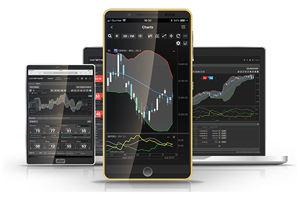 Our multi-asset platforms
Trade all your desired asset classes from our platforms

Find out more