Can I be logged into my account on more than one platform simultaneously?
For security purposes you can be logged into only one Cornèrtrader platform at a time. As soon as you log into another Cornèrtrader platform under the same ID, the system will issue a notification and force one of the platforms to log out.
Cornèrtrader - Error: "Failed to load the login page"
The Failed to load the login page error message indicates that you are unable to reach the login page of Cornèrtrader.

Try the following troubleshooting steps:

1. Make sure you don't have a firewall or other security SW – either on your PC (and maybe on your device) or on the network – which blocks access to the following Cornèrtrader login pages:

Live: live.logonvalidation.net

Simulation: sim.logonvalidation.net

2. If you are using a proxy server, make sure it is properly set up;
3.Make sure you are using the updated browser;

4. Try Windows network troubleshooting;

Right-click on the network icon in the Windows task bar, and choose "Troubleshoot problems" and follow the steps.
5. Verify your Cornèrtrader registry settings;

6. For advanced troubleshooting please contact us with the screenshots of the issue;
7. Login issue for clients using Bitdefender Total 2019;
For info, Bitdefender Total 2019 new version is preventing to connect to our Secure Website.
There is a protection in Bitdefender Total 2019 called "Online Threat Prevention" see picture below:
If you click on Settings this page opens: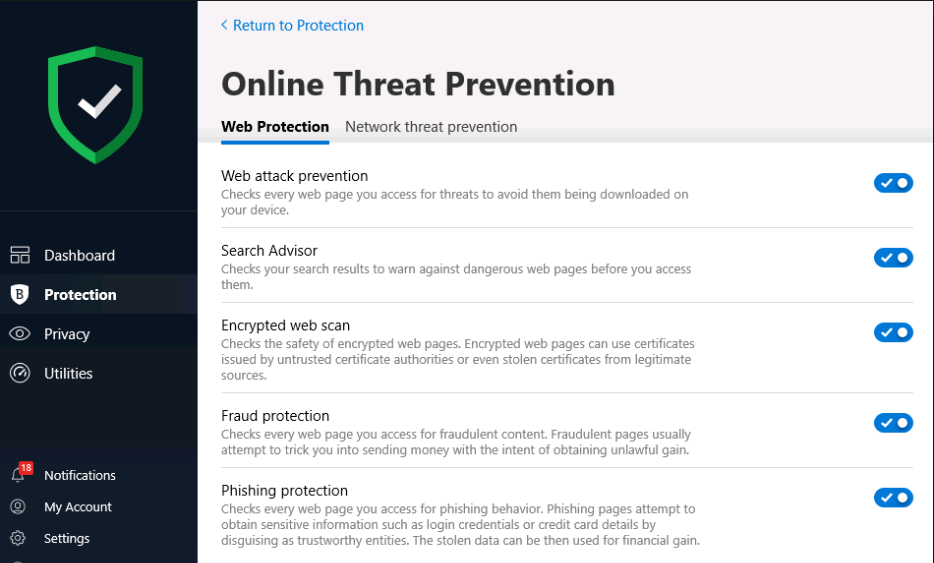 The function causing the issue is the "Encrypted web scan" above. If you deactivate it, then it works. Fortunately you can add exceptions, by adding the Cornèrtrader website to the exceptions and it works. Bitdefender takes too long to scan our secure site for vulnerabilities and then our server times-out and disconnects.
Free trial
Trade with virtual money.
LIVE
Open your account entirely online and free of charge!