Home
»
Financial Institutions
Financial Institutions
SOPHISTICATED TOOLS BACKED BY SOLID RELATIONSHIPS
Proprietary trading and hedging for financial institutions, banks and brokers from Cornèrtrader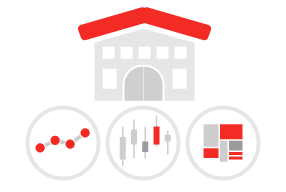 As you develop and execute trading strategies, you require the sophisticated tools to match your needs. At Cornèrtrader, we deliver the advanced resources and access to global financial markets that corporations, banks and broker dealers demand. Our trading platforms equip you with the institutional-grade capabilities required for the hedging and proprietary trading strategies you pursue.
In keeping with our long tradition of responsive service, our trading platforms offer options for customisation, along with advanced functionality. So, you're able to determine the features that make the most sense for your enterprise. Working within an agile, adaptive environment, you're able to tailor the platforms to your priorities and benefit from pricing that fits your trading patterns.
Cornèrtrader gives you direct access to markets around the world, along with a broad range of trading products. Combined with our efficient multi-asset platforms, this means that you can seamlessly execute a range of trading strategies.
This focused, flexible trading solution is grounded in the strength of the relationships we form with clients like you. By putting our expertise to work, we enable you to focus on what counts most – trading itself.
Fully licensed and regulated, Cornèrtrader is a reliable and established provider in an officially regulated environment.
Free trial
Trade with virtual money.
LIVE
Open your account entirely online and free of charge!
Call us at:


+41 58 880 80 80

Mon-Fre: 8:00-18:30

Our offices in Lugano will be closed on Thursday 08.12.2022 for the
Immaculate Conception.