Trading cost comparison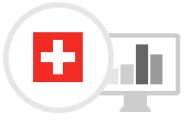 CornèrTrader, according to Moneyland, offers you the best available trading conditions. Moreover, our clients also appreciate our highly professional services.
Below you will find a price comparison taken from the independent comparison website, www.moneyland.ch
Cost comparison by the leading Swiss financial comparison service moneyland.ch
Please find below the conditions for various profiles. Blue notes the category leader in lowest cost.
Profile

"I rarely trade"

"I trade long term and mostly on stocks"

"I trade frequently with smaller trade sizes"

"I trade frequently with larger trade sizes"

Deposit

CHF

56'600

CHF

50'000

CHF

75'300

CHF

93'000

CornèrTrader

CHF 0

(No custody fees)

CHF 550.00

CHF 4'198.50

CHF 21'637.50

Credit Suisse

CHF 738.45

CHF 2'128.00

CHF 15'894.80

CHF 145'844.70

Migros Bank

CHF 281.95

CHF 1'198.40

CHF 8'878.85

CHF 37'849.50

PostFinance

CHF 180

CHF 843.00

CHF 7'052.30

CHF 44'546.85

Saxo Bank

CHF 273.55

CHF 639.60

CHF 4'514.85

CHF 22'803.55

Strateo

CHF 229.60

CHF 779.60

CHF 6'257.40

CHF 31'348.20

Swissquote

CHF 129.60

CHF 996.60

CHF 7'663.10

CHF 54'606.90

UBS

CHF 503.55

CHF 2'328.00

CHF 17'411.75

CHF 144'356.50